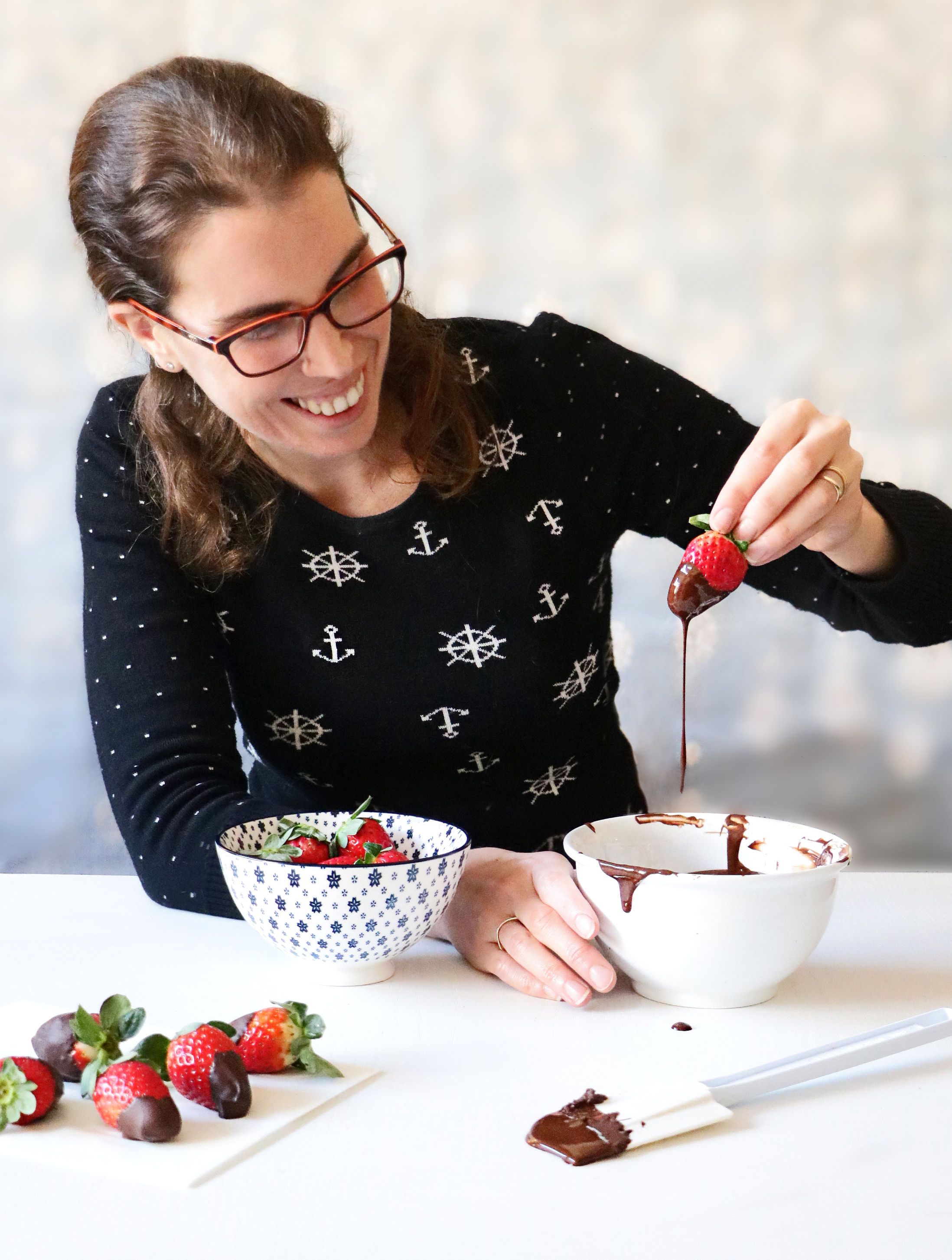 My name is Natalie Levin, and I'm a 32-year-old baker from Israel. Ever since I grew up I loved baking. I remember how I used to bake Polish cakes and cookies with my beloved grandmother as a little girl, and got so much inspiration from her.
Growing up I signed up for culinary school and learned Patisserie Art for a long, intense year. After getting my diploma I worked in a few restaurants and patisseries in Israel, and felt as if I found my destiny.
Back in 2009, I started writing a Hebrew baking blog named "oogio.net" (which means little cookie in Hebrew), and after 8 long years and many readers' requests, finally decided to expand it and create an English version as well, which got the name Lil' Cookie. Welcome!
In the past few years I managed to meet many patisserie chefs, food bloggers and people who are passionate about baking as much as I am, and some of them became my closest friends. I love cooperating with other bakers and creating new recipes together – it opens my mind to other techniques and inspires me, and I truly believe you can learn from everyone.
In 2014 I published my first baking book, "The Sweet Book" (Ha'Sefer Ha'Matok) with Efrat Lichtenstadt, one of the top food photographers in Israel. The book became a bestseller, and the first edition was sold out even before it got to the stores.
Baking is kind of like therapy for me. It makes me calm and there's no other place in the world where I feel confident and in complete control other than my kitchen. The easiest way to make me smile is to give me a homemade treat, made with love, and that is really all it takes.
My Hebrew baking blog started as a place for me to share recipes and ideas, and it became one of the most successful food blogs in Israel along the years. I can only hope Lil Cookie will become as successful as well.
You can find here all kinds of desserts, sweets, pastries and breads, in all difficulty levels – beginner to advanced. If you love baking and passionate about it, I'm pretty sure you're going to find at least one recipe you'll like.
I invite you to browse through hundreds of recipes and choose your next cake (or dessert challenge) to take into your kitchen. I promise I'm always here to support online and answer any of your questions.
Photography and Styling Copyright
All pictures in this blog were taken by me unless otherwise suggested. Any use of photographs requires written permission.
Content Services to Companies and Businesses
Lil' cookie allows exposure to hundreds of thousands of visitors each month. I suggest all kinds of collaborations and content services to commercial and private companies, such as:
Recipe development by a certified and experienced baker – I develop recipes for many Israeli and world-wide companies such as Elite, Tnuva and more.
Photography and styling – Over the years I made huge progress in food styling and photography. I took professional courses and became a food photographer among the other things I do. I photograph to commercial companies and offer all sorts of food styling and photography.
If you're interested in working with me, please contact: homets@gmail.com
Collaborations
I work with some of the largest food and lifestyle magazines in Israel and am always happy to cooperate and in search of new opportunities; any collaboration offers from blogs, magazines and other websites will be more than welcome.
Affiliate and Advertising
This blog does not contain any subliminal advertising content or commercial involvement, and any recommendation given about products, stores or restaurants is based on my own experience. In the cases that I am compensated for my review, a written disclosure will be provided.
I suggest affiliate and advertising options to small, medium and large businesses and companies. More details can be found here: Advertising in Lil' Cookie.
Comments, requests and suggestions
I try to respond as quickly as possible to any comment in the blog, on Lil' Cookie's Facebook page or email. However, since I am just one person, consider my reaction time may be extended from time to time. Questions regarding specific recipes are best to be asked as a comment on a relevant post. These will be answered more quickly as so the other readers can benefit from them.
Keep in touch
Facebook | Twitter | Pinterest | Instagram | YouTube